I think I have officially got a schedule down for the blog now! (that was fast huh...) I'm tellin ya when I put my mind to something it usually gets done, the problem is I don't put my mind to things all that often..... or stick to them rather. This ADHD has me changing my mind on the daily!! That being said I really am going to make an effort to stick to this new schedule I have written for myself. On top of that I am going to write a DAILY schedule for myself to make sure that I am putting aside time for everything that is important in my day. BOOM I m on a roll people!
So as I a looking for new fun link ups I found this one... and I love a good "so what" post!!
who wants to join me by linking up with Shannon over at "Life after I dew"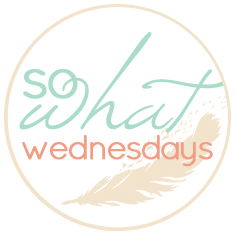 So what.... if I am a little happy that it is cloudy and cold out today, I needed a break from the warm and a glimpse into the fall aka my fav time of year!
So what.... if I added carmel macchiato creamer back into my coffee even when it is bad for me and full of sugar. I just can't quit this stuff.
So what.... if I am watching Dinosaur Train when Jaida is napping and there are no kids in the room.
So what... if I have a countdown (and feel the need to make a paper chain) to the day that I get to upgrade this phone, in case your wondering I have 66 days left. That is a long time huh...ugh.
So what.... if when I was waiting for this new tablet to arrive in the mail I had trouble sleeping and it felt like it was Christmas when it finally got here.
So what... if I need Afrin to survive during this horrible summer cold. Sisters got to breathe.
So what... if I might make going to garage sales my new side job. One persons trash is another persons treasure AKA a money maker for Erin ;)
What are YOU saying "so what" to today?