Hello Loves!
Can I tell you something?
I am so in love with blog hopping and finding new fun blogging ideas!!! Maybe too in love. I don't want it to get overwhelming..... because I have a lot to say people..... and unless there were 7 MORE days in the week I just wouldn't be able to fit everything in.... (kinda like in this sentence) but it is just. so. fun.
It's called
FRIDAY'S LETTERS
see here's the button !!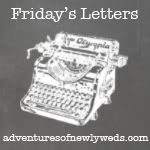 Basically random letters to anyone and anything... FUN. So here goes my first ever set of
Friday's Letters.
I have so many letters to write today it's been a busy week.
Dear Friday
( yes you're first ) I really wish I could be a fan of you like everyone else is, but you take my hubby away and send him back to work. You and I are over because Monday is my new bestie!
Dear Water

,
I sorta wish you had a voice ( but that would be creepy) that way you could remind me that I need to drink more of you.... a LOT more of you!
Dear Bed-in-a-Box mattress

,
you are AMAZING! I mean that! You have never let me down and are seriously the most comfortable mattress I have ever slept on. ever.
Dear Sugar
, I'm very sorry we split up a few months ago but I thank you for taking those 16+ lbs with you.... that was the nicest thing you've ever done for me.
Dear Jordon

,
thank you for being a helpful big brother you amaze me with your kindness!
Dear God
, Thank you for being faithful. always. seriously, always!
Dear Money
, I miss you and your many faces if you see this letter and miss me as much please feel free to come back home to my bank account.
Dear sister
, I can't wait till you come back home to visit....I also can't wait till you get your blog going!
Dear Spanx
, I think I might be the only person who is mad at you. You just don't work right for me, I was under the impression you would make me look like I have a flat, toned don't-have-any-kids tummy. You fooled me. Lastly...
Dear
Erin Condren Planner,
thank you for being amazing! Get ready to be used a LOT from here on out. We're about to have a busy life together.
ok fellow bloggers and blogettes its YOUR turn!!