Hey you...yes YOU it's that time again to link up and get social!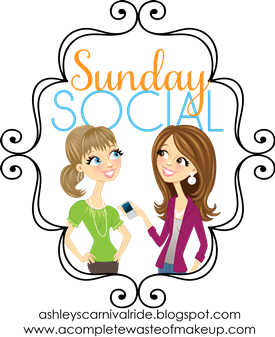 1. Do you plan to change any of your eating habits in the new year?
Not right this second. I did really well on the no sugar thang..... and now it's moderate amounts of sugar. I think I will stick to that! Still up for debate whether or not I will do the diet I talked about
here.
2. Any workout tips to get us back in shape after the Holidays?
Yes.... don't get workout tips from me. haha. How 'bout workout everyday even if it's just a walk around the ol' neighborhood. I really am getting better at working out ( well I was until I took a few days off for the holidays and forgot to go back to doing it.....DANG IT!) Time to get back on my workout videos. Jillian Michaels say whaaaaat?!
3. What is your favorite thing you did over the Holidays?
Ate some delicious food. yumm-o. Took a mini-vaca from the no sugar/healthy eating plan and enjoyed some holiday grub!
Actually stuck to only allowing myself a few splurges and stayed on track with the weight loss!
4. What is something you hope that you accomplish in 2013 that you did not in 2012?
I hope to procrastinate less
like I talk about here.
I also hope to really thrive in my relationship with God and remember to pray often (not just the nightly prayer with hubs) and I hope to get to my goal weight ....before tank tops and shorts season, which around here really isn't until at LEAST July or August ( unless you are a teenage girl, then you put on your shorts and ugg boots in late February at the first glimpse of sun)
5. Name 3 things happening this year you are excited about and why.
----- My sister, brother-in-law, niece and nephews are coming home to visit in May!! If this was the only exciting thing to happen all year I would be happy. I miss them like crazy and besides skype they have not met Jaida.
----- My aunt is retiring and having a birthday party all at the same time which means a fun summer beach vacation for us!
*** making that weight loss goal even more important ahhhh
-----
We are going to win the lottery and have tons of money so we can buy our church a building and land, and pay off our debt, and buy our dream home, and bless so many people!
*** ok maybe not..... but a girl can dream!!***
Let me end with a picture of these sweet kiddos ( my niecey and neshies as I call them)
** that's right sister I stole these off your blog that you never update so YOUR 2013 goal is to get to it!!**
Ok Lovelies.... your turn to link up so I can see how you answer these questions!